yo we(myself mostly) have been lackin on blog posts. i said i was going to post about all of the wild shit going down in europe but to be honest it was too wild to be thinking about a blogspot. im gonna pick it up where rashod left off and talk about some of the highlights of the trip. the show in trier was awesome. germany has tons of cool venues going on. germany has something going on that doesnt really exist in america. its like the wild huge youth centers with a million rooms and everything you can possibly imagine going on. huge festivals/tons of beer/skateparks/basketball anything you can imagine. the venue in trier let us sleep there after the show. they had bunk beds for everyone. we still had tons of beer left but the promoter left and the door was locked so we couldnt get to it. so me and alan(mongoloids drummer) set up a stack of about 4 tables and made a latter up to this window that was open and crawled through to obtain the left over beer. alan doesnt drink but he is down for a wild adventure. i was drunk as fuck trying to climb a latter of tables up to a barely open window 50 feet up in the air. it was pretty sketch but we pulled it off without any serious injuries. the next day we woke up early and headed to the show in belgium. our tour met up with the trapped under ice/lion of judah/dirty money tour. it was great to see good friends on a different continent. trapped under ice played and america got wild. bjorn rise and fall got knocked out. he blames it on rashod but who knows? fists were flying everywhere. steifs tooth got knocked out. shit was out of hand. rythm to the madness played a suprise set and killed it. shit was fucking heavy. people got hurt. ive heard alot about that band lately and it was awesome to be able to catch them while in europe. true colors played and it was some next level home town shit the whole place was singing along and going crazy. they have a good thing going on in belgium. shout outs to powered records. i dont remember our set that well. all i can really remember is there being blood in my eyes and it burning so bad i couldnt see. i tried to grab a water to rinse out my eyes on stage but it was a mess who knows. i found this picture from the show check it out: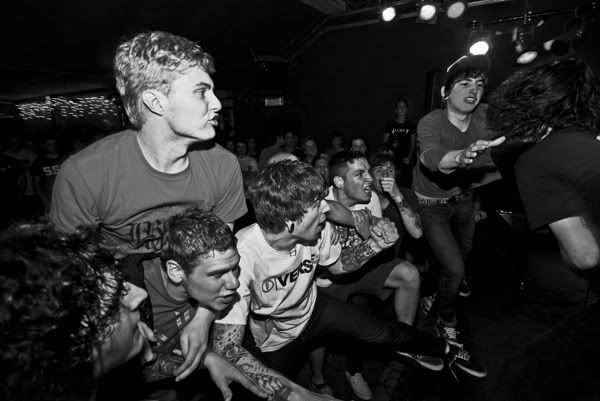 we stayed at the venue in belgium that night. the place gave us way to many drink tickets and the bar stayed open till about 5 in the morning. i dont really remember but i guess in the middle of my sleep i woke up lifted up my matress and threw up and kept sleeping. i didnt get to shower the next day. you gotta keep it moving. we woke up the next morning and went and got some food. in europe we eat way to many french fries(freetz) because its all we really knew how to order and it was a safe bet. just order some fries and keep it moving. its simple and gets the job done. stay away from the curry ketchup. they put it on your FREETZ and you think its ketchup but its actually curry ketchup what a creeper. we played rosswein that night. the venue was another one of those wild german youth centers. 50 lions/bitter end and meltdown joined us on the gigger. it was a great show. here is a video of our set check it out for yourself:
Trash Talk - Rosswein 28.06.2008
after the rosswein show we had a long over night drive heading to the infamous pressure fest. it was a wild experience and it went alot better than we all thought it would be. for those of you who dont know what it is. its a huge hardcore/metal fest in europe. heres a picture i took off of their website to give you an idea of how big it is: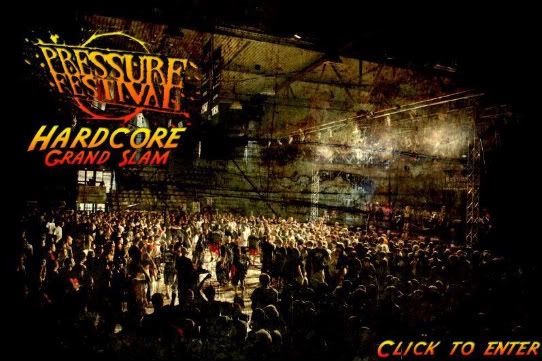 our set was awesome. there was a huge barrier but security wasnt trippin they let us do whatever we wanted for the most part. after the fest cold world/death threat/mongoloids and us all went and got these wild hotel rooms in germany. its pretty wild. its one of the smallest hotel rooms ive ever seen the shower is one room itself not attatched to the bathroom to safe room. it looks like its meant to be for a couple and their child. heres a picture so you can get an idea of how it looks:
the final game of the euro cup was going on while we were at the hotel. we all went out to a diner to eat and we ere talking to the waitress about going downtown and watching the game at a bar or something. she was telling us if germany wins itll be a good time and we can party/have fun but if they lose we will probably get the shit kicked out of us. germany lost. it was madness in the streets. we were walking around this sketchy street where they have these trailors and hookers just hang out in front of them and you get em and go into the trailor. the drummer of death threat had the best one liners that night. "suck my dick you fucking retard" it was amazing. such a good night. people were driving honking their horns waving flags screaming shit. i thought we might get shot or something. we saw these two german dudes walking down the street just punching everything in sight. they had their dog them jsut dragging it by its leash down the street. it was an insane sight. after that we went back to the hotel and aaron from death threat rolled another huge blunt and we all got insanely high. i think that was about the 3rd blunt that day. shit was wild. we drove 13 hours that night to vienna, austria. the show was in the cool basement type spot downtown. tons of kids came out we got fed well and we hung out with some cool kids. it was an all around good time. austria is a cool place for giggers. i suggest stopping through there if you ever get a chance. after the austria show we had to make the drive to florence, italy. it was another 13 hour drive or some shit. we had three long drives back to back it fucking sucked but we did get to go through some amazing sites. we passed through the alps on the way to italy. i remember waking up at some gas station and getting out to stretch and looking around and being surrounded by crazy mountains that look like this:
the show in italy that night was great. some hardcore kids came out to see us and the mongoloids but for the most part it seemed like people from the town were just there to see live music which was cool. we got fed some good pasta that night. some of the best food we had our whole european tour. there were some sketchy locals from around the neighborhook circling around the block all night so we had to keep a close eye on the van to make sure nothing wild happened but we ended up getting out of there without any problems. after the italy show we made our way back to belgium. it was a pretty fucked up few days for driving. i believe we went through somehting like 8 countries in 24 hours. it was insane. we played in ieper, belgium that night. the place was a cool small little bar in the center of town. ieper has a pretty big fest every year in their town. i saw a flyer for it was some insane line up with ssd and 2457638940 other bands. check it out for yourself... only in europe will you see shit like this going down:
after the show in ieper we stayed at our friend martijns house. we met him about a week before because he was driving bitter end around europe. good dude he fed us well and opened up his home to us what more could you ask for. the next show was in the almighty
AMSTERDAM
. i knew this day was going to be hard for us. weed is legal and theres no way that we werent going to get next level high. we did just that. garrett and i stopped into a coffeeshop(hunters) and got a gram of the wildest weed the dude had to offer(amnesia) and smoked it all.
the show was in the middle of the red light district. you literally turn the corner and are trapped in these crazy alley ways full of whores and sketch balls window shopping.
the wonderful people from reflections records came out that night and hung out. it was good to hang with em and talk about shit. they brought the european version of our new LP with them. everything looks great and I cant wait to get it out. after the show some kids form the gig showed us and the mongoloids around the red light district. we were out looking for wild shit. it was a good night. cant wait to get back there in september with paint it black. i passed out next level high that night and we woke up in the morning went to another coffee shop smoked crazy then made our way to the show in raesfeld, germany. there was like 8 bands playing the show so it went by super long. the kid who did the show said something about it being the first hardcore show that place had ever had or something? the show itself was fucking amazing. it was one of the best shows of the tour. it came out of nowhere. the whole show was kinda slow then right when we hit the stage the place exploded. it was random and great. the kids from the town were super nice. the next show was in eindhoven, holland. the old guitar from no turning back organized the show. it was good to hang out with that dude. i booked them a show in sacramento on their first us trip and took them around so he returned the favor. the show was great. losing streak and said and done played. i had heard alot about said and done so i was siked to see them. they blew me away i didnt know what to expect but it was heavy and fast. good shit check them out if you havent already. the venue in eindhoven was insane it was this huge skatepark type place. there was a emerica skate promo that day so that was cool to watch. kids were killin it in the skatepark. there was 13 old kids flyin down rails on some next level shit. here is a few pictures so you can see what it looks like:
we stayed the night at a cool spot in eindhoven that night. the next morning our van wouldnt start and we spent all day in the small downtown area trying to get it working. we did everything form jumping it to calling mechanics to pushing it. it eventually got going after an all day hasstle. after it was fixed we made our way to the final show in belgium. it was the best show of the tour. it was in a place about 10x10 feet. there were kids flowing out of the doors. our set was insane. it was a perfect way to end the tour. losing streak played and killed it. the hometown vibe was in full effect. it was sad to see the mongoloids(some of em?) go. i had fun hanging out with those dudes for a few weeks. shout outs to snakeliardi. after the show the bar stayed opened and we partied all night in the streets. the locals kept telling us how you can do whatever you want cause the cops only come around like once ever 3 hours so we took full advantage of that and made the most of our last night in europe. the next day we woke up early and headed to another etap hotel by the brussels airport where we waited for our flight. after a flight from belgium to london/london to chicago/chicago to philly we are finally back in the good ol usa and it feels great. taco bell is the best thing ever invented. we are currently chillin at our roady nick fits house in new jersey waiting for our bass player to arrive. spencer is currently driving from california to new jersey so that we can start our tour on friday in boston. it will be good to see him it was a bummer not having him with us in europe cause he is a big part of our band. shout outs to the mongoloids/our drivers(sebastion/shifty/niko/etjen) and scuba steve from trap them for fillin in and holdin it down for spencer while he squared away some shit. i dont really have anything else to say. europe was alot better than we had all expected and we cant wait to get back there in september with paint it black. our new record comes out july 22nd. go order it from revhq.com. our us tour with iron age and cold world starts on friday come out and rage with us its going to be insanity.
you cant put iron age and trash talk on the same tour that is just a recipe for disaster.
ill be seeing you all very soon. sorry if there is mad typos in this shit im not going back to check it over. this is way to long. thanks for reading...
see you all soon.
rip raybeez..
-lee